Hello dear readers! Please welcome my guest poster, Faigie Kobre the author of and owner of the blog  Edu Art 4 Kids.
I have always loved art. As a child I spent some of my time copying from other pictures.I however, did not think it was art. I was under the impression that artists drew from imagination and it was a cop out for me to be copying. When my mom would tell me how creative I was, I just poo poohed her.
(Below are two pictures I found from 1974. The first was from my only art class I took in 9th grade and the second one of the pictures I did that my mom loved)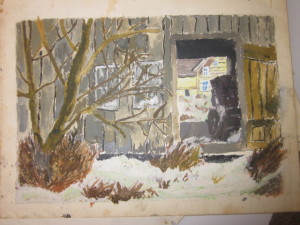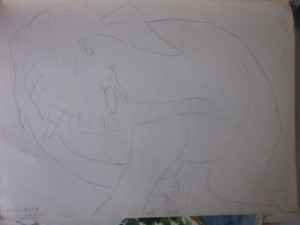 I had very little art in my schooling, (unless you count the ridiculous copycat crafts we did in Kindergarten and one high school art class) until I got to graduate school.
I graduated with a degree in early childhood from a very progressive school called The Bank Street College of Education.My best class was the art for teachers class. I loved painting and when my teacher went on to do other activities with my classmates, I kept painting and she allowed me to. Mind you this was not with acrylics,s oils or watercolors but children tempera, but I loved it.
When I taught early childhood I was very focused on giving the children art that allowed them to be creative and to think for themselves. I always hated the copycat art projects. However, I still stayed with the idea that you can't copy other pictures to be really creative.
Life took over, I got married, had kids, left education, took some random art courses through the years and always just felt this burning need to be creative without being able to let it out. I felt stuck. I would often walk through the arts and crafts store, Michaels and drool at the art supplies, but felt locked in an inability to be creative.
When my children were little, an artist friend of mine gave me a book to read Drawing With Children
by Mona Brooks. Mona developed what she calls the Monart method where she teaches drawing to children as young as 4 or 5.
Her book busted a few myths for me.
I learned that most artists copy from life or images (at least to begin) and I learned that it really is art when you copy…that it is not the same thing as copying a crafts project.
A few years ago I got involved in internet marketing and blogging and chose to blog about my old passion, childrens art.
As I was blogging however, I was not doing any art myself. I was just writing about old projects that I had done with kids.
A consultant from a course I took, told me that I needed to get children to do art projects that I could blog about.So I started putting together projects for my neighbors children to do , so I could blog about it.
Then, to get even more content for my blog I decided to offer art classes in my home and I as I prepared for this class that I managed to put together, I realized that I had a course inside of me.
I was going to use this class to document how one can teach children in the 5-7 age bracket how to draw and do art, even if the adult teaching did not have an art background.
That was me. An art teacher without an art background.
I also spoke to an old friend of mine from graduate school who had became a principal of a new local school. We had the same educational philosophies, so when I told her I thought she needed an art teacher and that I was the perfect candidate, she said Great! And I was in, my second art teaching job, with no art background.
So now here I was, an art teacher with no art background, my juices were flowing, I was doing tons of research, coming up with great ideas but, I was still not doing any of my own art
Then a funny thing happened. As I got involved in doing art with kids I saw that I was giving them art that I wish I had done as a child and it was so therapeutic that I felt my old creative juices stirring.
I knew that it was time to start doing my own art. I didn't feel blocked anymore, just needed some direction.
Not long after that I saw an ad for a class in watercolors by an artist that I followed. (Jane LeFazio)
I had become a bit familiar with watercolors through my kids art classes and even had most of the materials.
So I am finally doing my own art.
It's wonderful.
It's online so I don't even have to get dressed to go to class, and I can do it when I have the time.
I feel like have found my groove and even though the course is only a 6 weeks, I feel like it has loosened me up enough for me to take my art further, and I hope to do so. (one of the assignments below, to paint a citrus fruit)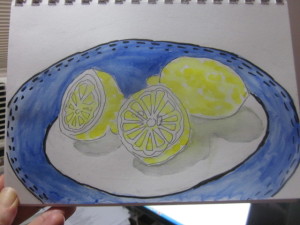 As I continue to teach these children and develop my own art background I hope I can enrich their lives at least as much as they have enriched mine.
So the moral of the story is. If you feel stuck in your own art, go teach some kids art. Even if you don't have an art background.
Faigie Kobre is the owner of Edu Art 4 Kids, an art website for parents and teachers teaching the best kinds of art for kids development. If you want to understand why she is so anti copycat arts and crafts for kids, then you can begin by downloading Faigies free report The 3 types of kids crafts that suppress creativity, reduce IQ, weaken self esteem and how to avoid them. This report helps understand how children can become better learners, increase their self esteem and inspire amazing creativity.